Internet and the green transition
I am delighted to be penning this brief editorial on a topic that is becoming a source of concern for more and more of our fellows, both in France and in many countries across the globe. They are starting to ask themselves the question about internet and, by extension, digital tech as a whole: is it an entirely positive transition accelerator or are there also negative aspects to this growing digitisation?
The sector symbolises the paradoxes underlying the green transition's implementation. The recently passed law on the circular economy also marks an important milestone in society's questioning of the greenhouse gas emissions of our internet-driven lives, at a time when the sector's GHG emissions are skyrocketing.
The current lockdown has proven how vital it is to have network infrastructures that work during times of crisis as, today more than ever before, data traffic is a major issue in our society. As crucial as they are, these data that allow us to stay in touch, to continue to work, to stay informed, to educate our children and to be entertained, must not result in our activities creating an even greater carbon footprint.
So we need to continue to make our networks more energy efficient, as is the case with optical fibre rollouts, to inform users of the greenhouse gas emissions that their use of digital services generate, and to offers solutions for all of the stakeholders working to achieve "digital sobriety".
If the current trajectory of technological developments is reducing the size of and energy consumed by devices, we are also seeing a transfer of the impact over to those stages for which data are less reliable: extraction of non-renewable resources, end of life processing for devices and internet usage.
Arnaud Leroy, President of France's Environment and Energy Management Agency, Ademe

Regulation in action
Arcep mobilised to assess the potential of multi-network mobile plans
Are you an enterprise or a public sector player: do you require highly resilient mobile communications and continuity of mobile services over a vast geographical expanse, for your operational needs or your M2M applications? Or do you regularly have to contend with mobile coverage gaps in certain parts of the country, and so would like to be able to access other mobile networks to sustain your activities?
If so, Arcep's Call for Expressions of Interest (CEI) is aimed at you! Arcep is seeking to conduct an inventory of multi-network (or multi-network roaming) needs in the business market. Not widely available in France, these plans allow customers to access several mobile networks in France, using the same telephone number and a single SIM card and, when necessary, to switch from one mobile network to another. This handover capacity, which is currently offered to customers of foreign operators when travelling in France as part of "roam like at home" agreements, could now also be supplied using French identifiers and contracts between only French operators.
Arcep wants to use this CFI to obtain a detailed understanding of all of enterprises' and public entities' needs in this area, to develop this market's potential in compliance with the regulatory framework. To this end, Arcep is also querying stakeholders on the terms and conditions that should be attached to the sale and use of these products, to be able to maintain operators' incentives to continue to invest in networks in France and work to distinguish themselves from the competition. The call for expressions of interest will run until 17 July.
Tomorrow by the numbers
The gradual re-opening of the 17,000 La Poste contact points should be complete by the end of May: this includes all 7,700 post offices and virtually every additional post office contact point, located in city halls and shops (around 9,300). La Poste has also resumed its rounds, with deliveries once again taking place six days a weeks (Saturday deliveries only for certain services) and is offering a free home pick-up service for vulnerable individuals. In an opinion submitted to the Government on the measures implemented by La Poste in response to the Covid-19 health crisis, Arcep had requested that the post office increase the information provided to users, its capacity to detect malfunctions and its dialogue with elected officials.

• Press release
• Opinion
On our radar
| | |
| --- | --- |
| Etienne Dugas, president of InfraNum | Supporting the fabric of SMEs and sub-contractors involved in installing digital infrastructure, and enabling a return to full throttle fibre rollouts across the country: the president of France's Fédération InfraNum is working on this vital task with operators, equipment suppliers, local authorities, the Government and Arcep. The France Très Haut Débit superfast rollout scheme has a target of complete nationwide – mainly fibre – coverage by 2022. An undertaking that represents an investment of more than 20 billion euros for network construction, and 28,000 jobs to be up and running by then. |
News from around the world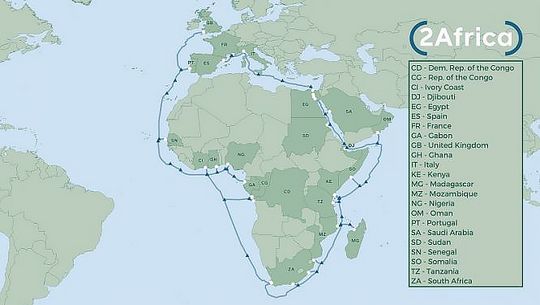 Africa expanding its submarine cable services
Submarine cables are the channels that carry internet traffic from continent to continent. They form an unbroken chain which, in early 2020, measured 1.2 million kilometres installed along the ocean floors, over close to 406 cables ranging from 131 km to more than 20,000 km long. It is thanks to them that countries enjoy greater resilience and increased traffic capacity. Africa had long relied essentially on submarine cable links to Europe for its international connectivity.
It was in this context that, on 14 May 2020, a consortium of eight private international and African operators (China Mobile International, Facebook, MTN Global Connect, Orange, stc (Saudi Telecom Company), Telecom Egypt, Vodafone and WIOCC) announced the construction of the 2Africa submarine cable: measuring 37,000 kilometres and connecting 23 countries in Africa, the Middle East and Europe. With a capacity of up to 180 Tbit/s, which surpasses the combined capacity of all the submarine cables currently serving Africa, it will become operational in 2023 – 2024, and fulfil its purpose of improving connectivity in Africa and the Middle East considerably by that time.

Arcep likes
The Carbo web app
Weaning society from carbon-based fuels thanks to data, using gamification and psychology: this is the underlying thrust of Carbo, a startup created some 10 years ago by three young entrepreneurs. Their conclusion: knowing all the facts and figures is not enough to battle climate change. Their bet: playing with data, and leveraging psychological biases to spur people into action. And so the Carbo app was born.
It analyses our lifestyle to help each of us reduce our environmental impact.
Field notes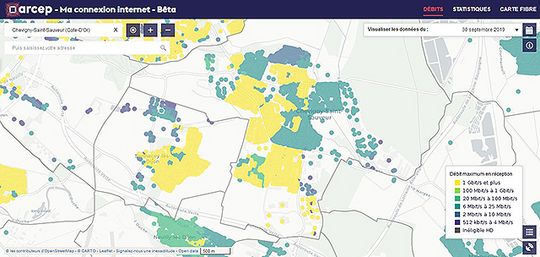 "Ma connexion internet": Arcep working to draw a clear map of fixed internet access, and calling on the community to lend a hand
"Ma connexion internet" (My internet connection) is a brand new project developed by Arcep: a search engine that allows people in France to enter any address and see which fixed internet access technologies are available, the ISPs serving that location and the available connection speeds. The information is presented in the form of interactive, clickable maps, complete by statistics on local, department, and regional coverage, to be able to track the progress of network rollouts.
"Ma connexion internet" is part of Arcep's data-driven approach to regulation: at a time when connectivity is essential to everyone in the country, this is designed to be a veritable tool of transparency, to increase the information available to consumers, entrepreneurs and public policymakers, enabling them to make informed choices. In particular, this tool will enable local authorities to establish accurate diagnoses – with respect to the objectives set out in the France Très Haut Débit superfast rollout scheme – and help in defining and updating their digital strategies.
By making this beta – i.e. still in need of fine tuning – version of the website available, Arcep is kicking off a new stage in the project: inviting local authorities and the community of geographical and/or telecoms data experts to contribute to the development work and to help make the needed improvements, with a view to releasing a completed version in the autumn. Come lend a hand!
Ma connexion internet and the beta version
FAQ and Open-data
Sign up for our webinars "Ma connexion internet, Arcep ouvre le capot" (My internet connection, Arcep looks under the hood)
| | |
| --- | --- |
| Well said | |
« Big Tech have dominion over capitalism, our attention and our data. Tomorrow, the Google model could morph into a kind of democratisation of the worst. »
Alain Damasio, writer, author of the science fiction novel, "Les furtifs", speaking in Issue 25 of ADN

Meanwhile in Brussels…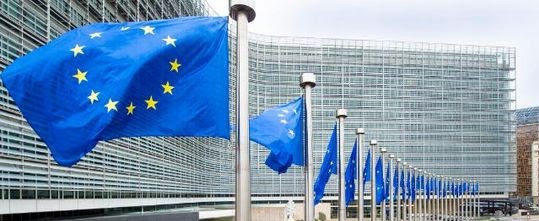 Establishing indicators to assess the impact of instant messaging
One could say that instant messaging services such as Messenger, WhatsApp and Skype are to telecoms what Uber is to taxis and Netflix is to TV channels. These over-the-top (OTT) players, which have disrupted the way our fellow citizens communicate with one another, will soon fall under the purview of Arcep and its fellow European regulators, all of which are members of BEREC: the Body of European Regulators for Electronic Communications.
To identify the metrics and indicators that regulators might collect to begin to monitor these IM providers and their development, BEREC plans on hosting a workshop in late 2020 on collecting data from certain OTT players, before publishing a report on the topic in 2021. The aim of this process is to quantify their impact on the telecoms market. It is set against the backdrop of the European Electronic Communications Code which lays down new obligations for these players, and new information gathering powers for regulators.

Arcep, telling it like it is
Battling the "octopi" in neighbourhood cabinets!
That great jumble of jumpers and cables that look like so many octopi spilling out of neighbourhood cabinets… Become a staple of social media postings, photos of these tangled messes caught Arcep's attention some time ago, as they can lead to network operation issues and affect subscribers' service. Arcep has also been solicited by several local authorities who are concerned about a frequent state of disarray.
Optical fibre networks will be operational for several decades to come. To ensure they continue to run smoothly, in early 2019 Arcep created an "Operations" working group – whose members include operators and Arcep staff – tasked with solving this type of problem. "Service calls to neighbourhood cabinets are a shared affair. The cabinets belong to infrastructure operators, but commercial operators also have access to them for installations and maintenance via sub-contractors" explains Sébastien Soriano, in the Gazette des communes. "Under the current system, some may begin to shirk their responsibility if we're not careful." To prevent this from happening, the Operations working group has been meeting every six weeks for a year now. It has made it possible to confirm that it is the infrastructure operator's responsibility to ensure the network's integrity. It must guarantee the quality of the work performed by its sub-contracting commercial operators.
To move forward on this issue, infrastructure operators working within InfraNum drafted a first set of proposals, which were discussed multilaterally with all of the operators. The latter are testing new street cabinets and new ways to organise themselves to facilitate the technicians' work. "An escalation mechanism could include excluding the sub-contractor – through an official notification procedure – if their work is not up to par," the Arcep Chair also said. This work has enabled stakeholders to establish a roadmap that was finalised in early April, after discussions with local authorities. It will result in operational, technical and contractual changes in the short term, and identifies the additional work that needs to be done before the end of the year. Arcep will continue to keep a close eye on the situation as it evolves, and to maintain a dialogue with stakeholders.
• Sébastien Soriano interview in the Gazette des communes
Photo / The "Operations" team: Jeremy Bonan, Clément Bernez, Adrien Piot and Uriel Kaufman, from Arcep's Optical Fibre Unit
Mark your calendars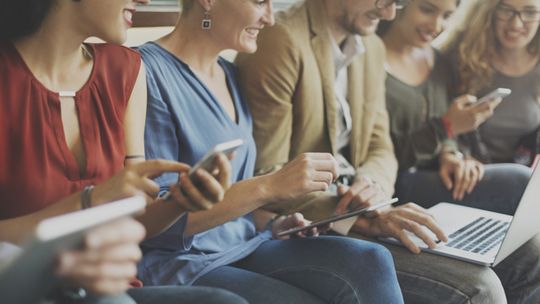 9 and 11 June 2020 – Smart Territories technical workshops with local authorities
Arcep will be hosting two online workshops with local authorities: on mobile connectivity (morning of June 9) and on fixed connectivity (afternoon of June 11). These workshops are for representatives of local authorities' departments in charge of developing connectivity. They will be an opportunity to take stock of the latest regulatory developments, and to answer any questions to which they might give rise.
16 June 2020 - Telconomics Conference
This year's Telconomics Conference will be held as a videoconference, starting at 10 am on 16 June. Arcep will present core market data for 2019 to members of the media and financial analysts: investment in fixed and mobile networks, operators' revenue, fixed superfast subscription numbers, key figures on 3G and 4G networks in France… This conference will also be a chance to deliver a status report on 5G and Arcep's actions in support of investment. Open to members of the press and financial analysts /By invitation.
25 June 2020 - Presentation of the report on the State of the Internet in France
Arcep's annual report on the State of the Internet in France will be published and presented to the media on Thursday, 25 June. For the first time, this 2020 edition will contain an entire chapter devoted to environmental issues, including the initial findings of the cycle of inquiry devoted to "Future Networks" on digital tech's carbon footprint, and Arcep's first concrete actions to measure this sector's environmental impact. This event will also provide a chance to take a look back at the progression of the lockdown and its effect on network traffic. Open to members of the press /By invitation.
Arcep will be there…
10 June 2020
BEREC plenary meeting
The Body of European Regulators for Electronic Communications (BEREC) will be holding its second plenary meeting of 2020 on 10 June. The meeting will provide the opportunity to adopt the revised net neutrality guidelines, and to launch two public consultations: one on the guidelines on symmetric regulation and one on co-investment. The public debriefing for this meeting will be held via videoconference one week later: on 16 June. Arcep will be represented by Executive Board member, Emmanuel Gabla.
25 June 2020
Avicca/Banque des territoires/InfraNum videoconference
On 25 June at 2:30 pm, Avicca, la Banque des Territoires and InfraNum will present the findings of their joint production: the 2020 Superfast Broadband Observatory. This videoconference will be an opportunity to deliver the scorecard on France's digital resilience and, as in previous years, explore the topic of digital network rollouts and usage. Arcep will be taking part in the roundtable following the presentation.
18 June 2020
Avicca meeting with the overseas territories
On the afternoon of 18 June, the national association of cities and local authorities for electronic communications and media (Avicca) will be hosting a videoconference with local authorities from Guadeloupe, Martinique, Saint-Barthélemy, Saint-Martin, Saint-Pierre-et-Miquelon, Guiana, Reunion and Mayotte, to take stock of the work that Arcep and the Government is doing in these overseas departments and territories. Arcep, France's National Agency for Territorial Cohesion (ANCT), the Ministry for Overseas Departments and Territories, and the Directorate-General for Enterprise's (Ministry of Economy and Finance) Digital Economy Department (SEN) will all be taking part in this meeting.