Networks as a common good
The unprecedented crisis that we are currently experiencing has provided a powerful reminder of the degree to which communication networks – internet, fixed and mobile telephone, mail, parcel, print media distribution – are a vital infrastructure in our country's operation, and a fundamental part of the freedom, equality and fraternity that our country holds so dear.
The outstanding mobilisation of telecoms, postal and print media companies' teams in the field, and of the whole fabric of the small and medium businesses, local stakeholders and associations that surround them, has made one reality possible: the networks are holding steady! Not always under the usual conditions, but they are holding steady. A feat that commands respect! Let us also salute the contribution of those "heavy" network users, VoD suppliers, print media publishers… who are doing their part. And especially to all of the users who have taken it upon themselves to switch from 4G to Wi-Fi, staggering video viewing across the day, and waiting patiently for their mail or parcels to arrive. Thank you!
The Arcep manifesto of "networks as a common good" is not a mere statement of principle. It is a profound reality, made manifest by this mobilisation of each and everyone of us, by this sense of shared purpose.
It is also an imperative that we, as regulator, will continue to honour throughout the crisis, to ensure a continuity of service, including for the most vulnerable among us, accessibility for people with disabilities, to keep users informed, protect the secrecy of correspondence and net neutrality… On this last point, I would like to reiterate how fully net neutrality is a cardinal rule in network governance. It is to some extent the "law of the crowd" versus the "law of the strongest" versus the arbitrary. Arcep is committed to ensuring this principle remains in full force under the current singular circumstances.
And, finally, we are working to prepare for what comes next, once all of this is over. To confirm an unwavering drive to outfit our country with competitive telecoms networks, massively and rapidly: to connect every household, every SME with optical fibre, and deploy 4G wherever it is still needed; to launch 5G while ensuring balanced regional rollouts. We must also subject technology to a greater sense of accountability, particularly from an environmental perspective. And bring back to the fore the need to expand telecoms regulation to include devices' operating systems, those powerful network checkpoints that no watchdog is watching. A host of challenges then, to which we will respond with a full-throated belief: networks as a common good.

Sébastien Soriano, Chairman of Arcep

Regulation in action
5G: delayed but staying the course
Launch of the frequency awards procedure in late 2019, candidate bid package deadline met in February, allocation of the first blocks of spectrum in March… with the final auctions set to be held in April. The Covid-19 crisis threw the procedure for awarding 5G frequencies in the 3.4 – 3.8 GHz band in Metropolitan France off-course, but it is a delay that we hope will be short lived. Without the physical presence of Arcep team members, the process of organising the logistics of holding auctions – including the possibility of doing so remotely – is made all the more complicated.
Despite which, we are making progress: after having examined the bid packages submitted by the four operators, Arcep confirmed their qualification on 31 March: all four made the ambitious commitments set out in the specifications, and are therefore each eligible to obtain a block of 50 MHz for 350 M€, in the first stage of the procedure. This qualification also authorises them to participate in the second phase, during which 11 blocks of the remaining 10 MHz of spectrum in the 3.4 – 3.8 GHz band will be auctioned off. The timetable for the auction will be reset as soon as possible, once we have more clarity on the national health situation.
In the meantime, Arcep will continue to work on societal issues related to digital tech and the networks' ongoing development. And on environmental aspects in particular: through its decision of 26 March 2020, Arcep has begun a first campaign for gathering information from operators on the environmental impact of telecoms networks and boxes. Added to which, Arcep's Anaïs Aubert will be co-chairing the BEREC (Body of European Regulators for Electronic Communications) working group on the sector's sustainability issues.
Tomorrow by the numbers
| | |
| --- | --- |
| | Erratum: contrary to what was stated in our latest newsletter, the figure of 9.1 terabits per second corresponds to the traffic observed on 10 March at the Deutscher Commercial Internet Exchange point (DE-CIX) in Frankfurt, Germany, which is one of the world's largest internet traffic nodes. But this represents only a small fraction of global internet traffic, which is exchanged via public and private peering, transit and the cache servers on operators' networks. In France, for instance, only 2.5% of incoming traffic on the four main operators' networks travelled through an Internet Exchange point, as of the end of 2018 (source: Arcep Barometer on data interconnection in France). |
On our radar
| | |
| --- | --- |
| Françoise Barré-Sinoussi | Virologist at the Institut Pasteur/Inserm, co-recipient of the Nobel Prize in medicine for the identification of the retrovirus responsible for AIDS, and president of the Sidaction association, Françoise Barré-Sinoussi is heading up the newly formed Research and Expert Analysis Committee (CARE) which is in charge of advising the Government on Covid-19 treatments. Composed of 12 researchers and physicians, CARE will also examine, "the opportunity to implement a digital strategy for identifying people who have been in contact with infected individuals". |
News from around the world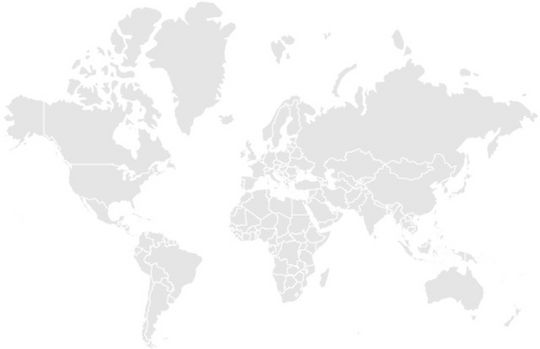 Open source vs. the coronavirus
OpenCovid19 is the name of initiative launched on the internet in early March by proponents of Open Science. Their goal: to go beyond local responses to the crisis, and provide a global and coordinated response to the acceleration of the pandemic.
Initiated by the Just One Giant Lab (JOGL) online platform, the project aims to develop and share open source Covid-19 detection and diagnosis protocols, to guarantee access for impoverished countries and small laboratories. Other projects have also emerged from the ongoing discussions, such as tracking the spread of the virus using open source software, and searching for the most inexpensive ways to fabricate masks and ventilators.
A collective science project that is open to everyone, OpenCovid19 is a response to the need of speed in battling the coronavirus pandemic, in addition to building a repository of technological knowledge that can serve as the foundation for battling any future epidemics. A double response to the Covid-19 crisis, which has become not only a health crisis, but also an economic and social one.

Arcep like
Disabilities and solidarities: The French Telecoms Federation (FFT) doubles communication time
To be able to communicate more easily with loved ones and healthcare professionals during the current health crisis, from 15 to 30 April people who are deaf and hard of hearing will have access to double their usual communication time in French Sign Language (LSF), in LSF-cued speech (LPC) and for using subtitling technologies for calls, at no extra charge – i.e. two hours a month instead of the usual one hour provided for by the regulation. An initiative financed by the French Telecoms Federation (SFR, Bouygues Telecom, Euro-Information Telecom, La Poste Mobile and Orange) and also made possible by the generous contribution of the staff at Rogervoice, which manages the telephone relay service on behalf of operators.
Field note
Bravo to the teams in the field!
If public authorities have recognised that telecommunications networks and services are "essential to maintaining the continuity of life in our nation," agents in the field, who are doing their utmost to ensure a continuity of services and to keep the networks running under these extraordinary circumstances, warrant a great tip of the hat. As does everyone involved in providing postal and print media distribution services.
Hundreds of technicians continue to work across the country to protect and maintain this common good. Despite the dire health crisis, they are on the job, working to ensure that everyone in France can continue to communicate and stay informed. So a sincere and hearty bravo to these "network heroes," be they telecoms, postal, print media distribution, fixed or mobile, local or national, serving businesses or the general public, incumbent or alternative, private or public-initiative… The great family of networks is galvanised to rise to the challenge!
And each of us can do our part to help them, by adopting best practices to avoid network overload.
| | |
| --- | --- |
| Well said | |
« When you see how quickly people have switched to telework, and especially how scientists around the world are able to collaborate, I am both very impressed and quite optimistic. Imagine this same pandemic barely ten years ago, the situation would have been much worse. »
Andrew McAfee, researcher at MIT's Sloan School of Management (Les Échos, 27 – 28 March 2020)

Meanwhile in Brussels...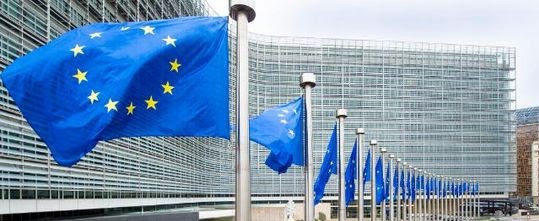 Open Internet: European regulators send out a reminder of the rules and their application
After the one-two punch of a global pandemic and the resulting confinement of their population, European Union Member States saw a massive surge in traffic on their telecoms networks. European NRAs who are members of BEREC and the European Commission were quick to make contact to discuss the status of the networks, and the actions that had been taken or needed to be taken under the circumstances, then issued a joint statement.
Arcep and its European counterparts are thus keeping a close and continuous watch over the status of network capacity, and the measures being taken to ensure the networks continue to run smoothly, working in concert with the European Commission. Regulators also issued a reminder of the rules that operators must follow, under the terms of the Open Internet regulation, notably that they are prohibited from blocking, slowing down or prioritising certain traffic streams. Exceptional traffic management measures may be authorised if they are necessary to handle impending or proven congestion, and only if they are applied equally to all applications and categories of application.
The message delivered across Europe remains optimistic: no major congestion issues have occurred, although the monitoring mechanism remains in place. Operators and content providers have acted on their own initiative and as part of a dialogue with public policymakers, to ensure the networks' performance levels are maintained.
• Joint press release from the European Commission and BEREC

Arcep, telling it like it is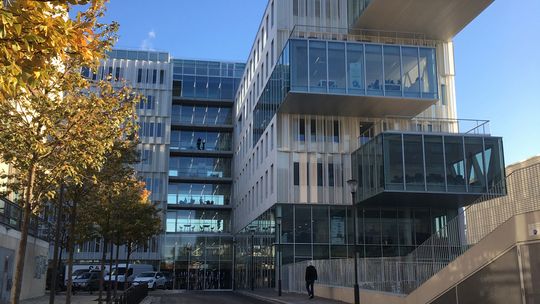 Bercy Crystal closes, Arcep adapts!
Already engaged in a liberated organisation approach to its daily operations, and thanks to the mobilisation of all of its teams, Arcep was able to adapt swiftly to the singularity of the current situation and continue to carry out its essential tasks remotely.
The recent move to new offices provided an opportunity to develop teleworking and deploy new IT tools. This in turn made it easier for everyone move quite quickly over to teleworking, while support services, starting with IT, helped smooth the way to scaling up the mechanism. E-learning training on teleworking during the health crisis was made available to any staff member who requested it.
For Arcep, this unprecedented situation has been an opportunity to step up the collective adoption of new working methods. A veritable "learning community" system was put into place to structure the Authority's ability to continue its day-to-day activities, but also to nourish ties and solidarity between staff members.
Arcep thus deployed all of the conditions needed to protect the health of its 170 staff members. The tools put into place by France's Inter-departmental Directorate of Digital Affairs (DINUM) – including Tchap, OSMOSE, the Government webconferencing service – also lend vital support during these times. The only change requested from the ecosystem in its interactions with Arcep is that any correspondence sent by the post requires a duplicate to be sent systematically by e-mail!
Mark your calendars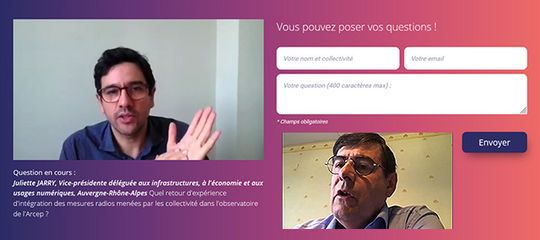 10 April, Arcep's live streamed video chat...
What are the latest developments in fixed and mobile connectivity in France? What tools does Arcep make available to local authorities to track this progress? And, in this period of national health crisis, what actions is the regulator taking to address the surge in the use of our networks, which are proving more vital than ever before? Because the Smart Territories conference scheduled for April 1st could not take place, Arcep set up a live video chat and viewer Q&A on 10 April with its Chair, Sébastien Soriano, and Patrick Chaize, Senator for the Ain and President of Avicca (the national association of cities and local authorities for electronic communications and media). You can watch their chat in VoD.