New cooperation initiatives between Arcep and CSA
Because of their respective mandates, Arcep and French broadcasting authority, CSA, are regularly required to engage in a dialogue and cooperate on issues that fall under both authorities' purview. This takes place as much in the periodic regulators' meetings as in a bilateral fashion, notably as part of mutual requests for input. So it was that CSA recently solicited Arcep's opinion on upgrading the digital terrestrial TV (DTT) platform, an issue that is currently the subject of a public consultation.
Beyond that, and given the challenges raised by the digital transition, Sébastien Soriano and I wanted to develop new forms of cooperation as part of an agreement that we will be signing in the coming weeks. A joint Arcep – CSA unit will be tasked with deepening the technical and economic analysis of digital markets that fall under both authorities' purview, as much in terms of usage and distribution, as the relationships between stakeholders and value chains. Lending the two authorities' combined expertise to the task, the concrete manifestation of this cooperation will include joint studies and publications. It could also involve other stakeholders such as CNIL and France's Competition Authority.
We have also begun to work together on protecting minors against pornographic content on the internet. Assembled by the Government in December, the concerned operators agreed to take action, under the aegis of Arcep and CSA. These operators are being called upon to deploy an information portal on parental control systems, which are often not activated. Together, Arcep and CSA will form a monitoring committee, to track the progress of these efforts.
As Professor Frison-Roche said, inter-regulation – which has become vital in today's digital universe – seeks to "set solutions in motion": this is precisely the frame of mind that underpins Arcep and CSA's collaboration.
Roch-Olivier Maistre, President of CSA

Regulation in action
2030: which networks for what kind of society?
The role of new technologies in our society is being challenged more than ever before. Are they synonymous with progress? What is there impact on the environment? What sovereignty issues do they raise? Arcep's mission is to ensure that networks develop as a common good. It can therefore not overlook these questions, or the need to raise awareness.
Which is why Arcep wants to open up debates on the matter by providing the value-added of a neutral expert. To this end, it will be hosting a day of discussions in June 2020, centred around the following questions: what benefits can we draw from technological innovations to map out a desirable model for society? And, on the flipside, in what ways could they threaten democratic values? Finally, what role should the regulator play to make these networks help achieve a desirable future for one and all?
This conference will follow through on an earlier initiative from Arcep. In September 2018 the Authority began a new cycle of inquiry to anticipate how networks are likely to evolve over the next five to ten years, to prepare for upcoming challenges in regulating communications networks, and to steer its actions accordingly. With the help of a Scientific Committee, Arcep was thus able to explore some ten, occasionally somewhat technical topics, ranging from connected cars to dynamic spectrum management, from network virtualisation to digital tech's carbon footprint, by way of smart farming and smart territories. These expert briefs, all of which are available on the Arcep website, will serve as a springboard for discussions at the conference in June.
Tomorrow by the numbers
Gender parity is progressing… slowly! Financing 25% of female digital tech company founders or co-founders in 2025: this is the target set by the Sista collective, co-creator with CNNum of a charter in support of funding female entrepreneurs. Today, only 15% of startups have at least one woman founder.
• Sista collective
On our radar
| | |
| --- | --- |
| Caroline Cayeux et Yves Le Breton | Caroline Cayeux is the President of France's Agency for Territorial Cohesion (ANCT). Officially created on 1 January, ANCT covers the areas of responsibility assigned to the General Commission for Territorial Equality (CGET), the National public body for the development and restructuring of craft and commercial areas (Epareca) and the French Digital Agency. This is an important interlocutor for Arcep on mobile and ultrafast coverage issues. Caroline Cayeux is the mayor of Beauvais and the President of the Villes de France Association. The prefect Yves Le Breton was appointed to work alongside her as the Agency's Director. Operating under the supervision of the Ministries responsible for regional development, local authorities and urban policy, ANCT must advise and support local authorities and their representative bodies in designing, defining and implementing their projects. |
News from around the world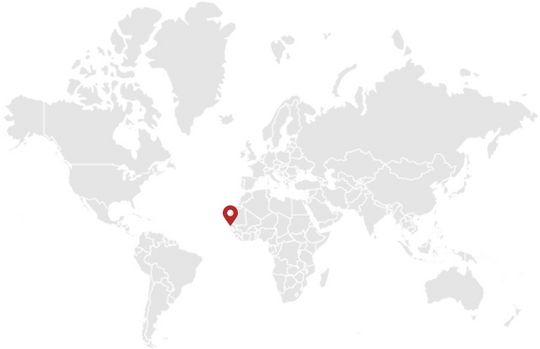 In Senegal, net neutrality = 1 / zero-rating = 0
Last November, Senegal's regulatory authority, ARTP, required Free Mobile Senegal to stop zero rating WhatsApp in all of its plans. The regulator concluded that not counting the traffic generated by this app (i.e. zero rating) was contrary to the stipulations of the Senegalese net neutrality code. Its Article 25 prohibits operators from favouring any one service, application or type of traffic over others with the same properties.
In Europe, BEREC guidelines on the European Open Internet regulation of November 2015 specify that these zero-rating offers are not prohibited by the regulation per se, but may have an impact on users' rights. As in Senegal, they must be assessed by regulatory authorities, and comply with regulations.
In India, regulator TRAI already came out in favour of net neutrality back in 2016, by forbidding Face book from offering its Free Basics service for free, in other words applying different pricing for internet access, hence zero-rating offers.
In the United States, on the other hand, the FCC put an end to operators' guaranteed equal treatment of data streams in 2017. Which means that operators there are now free to favour one service at the expense of another, and to offer zero-rating without prior approval.

Arcep likes
The Agrikolis startup
Based in Tourcoing, Agrikolis has opened some 60 parcel pick-up points for heavy and voluminous items in farms across the whole of France. Farmers are paid based on the number of parcels they receive. The only prerequisites: to have the means to handle the shipments, along with a covered and secured storage space. Perfected within e-tailer Cdiscount's business incubator, Agrikolis is filling a need for shipments to rural areas and providing farmers with the ability to supplement their income. Also a good way to rekindle ties with consumers!
Field notes
Arcep corrects mobile coverage maps
Launched in September 2017, the "Mon réseau mobile" (My mobile network) website allows users to compare mobile operators' coverage and quality of service across the whole of France. By introducing maps, Arcep sought to open a debate on mobile coverage, which led to the adoption of the New Deal for Mobile.
From the start, Arcep recognised that these maps could always be improved. And there has been no shortage of criticism from consumers and local elected officials. Arcep has heard them loud and clear, and will increase the accuracy of its maps dramatically over the course of 2020, in addition to incorporating third-party data.
To enhance its "Mon réseau mobile" website, Arcep also held several feedback workshops with regional and departmental councils, digital tech joint associations and regional and departmental prefectures, in Burgundy-Franche-Comté and in the Pays de la Loire – to which Arcep agents travelled – and in Normandy (by telephone). All of these website users in the field were thus able to share their expectations of "Mon réseau mobile", such as the ability to cross-reference operators' coverage data, and to have better base maps.
| | |
| --- | --- |
| Well said | |
« I want to talk about the fundamental change that it going to happen over the next few years: today 80% of generated data are stored in datacentres or the cloud, and 20% on edge devices, such as smartphones, connected cars, smart objects, etc. This proportion will be reversed over the next five years, with 80% of data being everywhere, in every connected object. 5G will play a decisive role in this switch. My responsibility is to establish the rules that will enable a European data economy to develop and prosper. Europe needs to set its own utilisation and storage criteria for future massive data pools. »
Thierry Breton, European Commissioner for Internal Market and Services, Les Echos, 8 January 2020

Meanwhile in Brussels...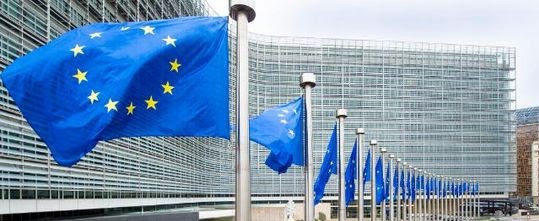 The "Green Deal" tackles digital tech
On 11 December, European Commission President, Ursula von der Leyen, announced the outlines of one of the Commission's top priorities: the Green Deal for Europe. Among the Deal's targets is a carbon neutral European Union by 2050. Digital technology will be fully mobilised to achieve this objective. The Commission will examine measures that would enable artificial intelligence, 5G, the cloud and the Internet of Things (IoT) to contribute in a positive way to climate-related challenges. An ambition that will go by way of progress in the circular economy and the sector's energy efficiency, but also measures for recovering electronic devices and stricter rules governing new network rollouts. Digitisation also creates the ability to better monitor air and water pollution, optimise the use of energy and natural resources – all of which are key to the success of this "Green Deal".
The climate emergency is an equally pressing issue for French authorities. On 16 December, nine independent authorities – Arcep, AMF, the Competition Authority, ARJEL, ART, CNIL, CRE, le CSA and HADOPI – elected to join forces and publish a joint memorandum. In September, Arcep published a brief as part of its Future Networks experts committee on "Digital tech's carbon footprint". Arcep also supports the creation of a "Yuka" app for digital technology, to foster consumer awareness of the environmental impact of their consumption and, as Arcep Chair, Sébastien Soriano, explains, "to encourage the market to make environmentally ethical choices".
• Experts' brief on Digital tech's carbon footprint
• Cooperation between regulators
• Is 5G anti-green? Interview with Sébastien Soriano in L'Obs

Arcep, telling it like it is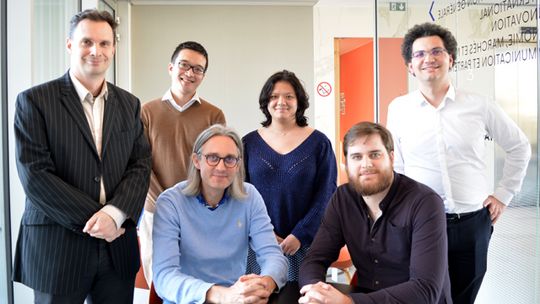 Print media distribution: building a multidisciplinary team
Since October 2019, Arcep has been responsible for regulating bulk print media distribution. Supporting the sector's modernisation, drafting a mission statement, opinions on the technical, pricing and contractual terms and conditions governing distributor services, monitoring negotiations over sorting rules… a host of tasks lie ahead for Arcep departments, and require vast legal, economic and technical expertise. Three departments are thus mobilised to build new teams and assume these new responsibilities: the Internet, media, postal and users department (Print media distribution unit), the Economy, markets and digital affairs department (Cost and tariffs for postal, press and audiovisual unit) and, finally, the Legal affairs department (Infrastructure and open networks unit). This mobilisation aims to make readers' interests the centrepiece of every action, ensuring they have easy, nationwide access to a high quality and diversified print media.
Photo/"Print media distribution team": from left to right, Henry-Pierre Melone, Patrick kwok, Berenice Nguyen, Olivier Delclos. Seated: Remy Maecker and Victor Marchand.
Mark your calendars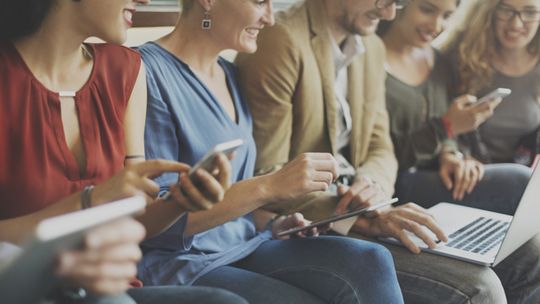 4 February 2020 – "J'alerte l'Arcep" and user satisfaction status report
Increasingly frequent user complaints and reports, recurring themes: at 10 am on 4 February Arcep will present the status report for its user reporting platform, "J'alerte l'Arcep," which has been up and running for two years now. Arcep will also reveal the results of a user satisfaction survey conducted by Médiamétrie whose purpose was to test the representativeness of its results. The event will only be open to journalists.
Arcep will be there…
24 January 2020, Brussels
14th Seminar for National Judges
The Florence School of Regulation Communications & Media will be hosting a seminar: "Balancing regulatory certainty and investment in the Digital Era, on behalf of DG Connect, on 24 January, in the offices of the European Commission in Brussels. Arcep Executive Board member, Maya Bacache, will be participating in the 2nd session, at 2:30 pm, where she will discuss "Potential bottlenecks in the distribution of digital services".
• Find out more
28 - 30 January 2020, Lille
12th International Cybersecurity Forum
The cybersecurity ecosystem will gather for three days at the Grand Palais in Lille to discuss the latest innovations and best practices in digital security. Internet users' behaviour will once again be the focus of this 12th edition. Arcep Chair, Sébastien Soriano, will deliver a keynote at 4:00 pm on 30 January.
• Find out more
30 January 2020, Paris
La Fabrique de la Cité
"Will Google engineer the cities of tomorrow?" As part of its New Year's event for 2020, the Fabrique de la Cité will be hosting a debate, whose point of departure are the current tensions between Sidewalk Labs and city of Toronto residents, where the Google subsidiary was selected in 2017 to build and develop a smart neighbourhood in a disused commercial neighbourhood. Between negotiation, supervision, regulation and rejection, what strategies can cities adopt to countervail the massive power of Big Tech and platforms' increasingly clear urban ambitions? Arcep Chair, Sébastien Soriano, will take part in the debate that kicks off at 12:30.
• Find out more
31 January/1 February 2020, Paris
T.Dat'Hack, regional digital development hackathon
Hosted by Avicca at La Paillasse, with the support of the Banque des Territoires, La Poste, OpenDataFrance and Opendatasoft, and with the participation of Arcep, ANFr, CEREMA, Université Rennes2 and OpenStreetMap France, the T.Dat'Hack hackathon will work on three areas related to the topic of "good coverage": local Wi-Fi, the New Deal for Mobile and fibre for businesses. Arcep will be represented by a data expert.
• Find out more
5 February 2020, Paris
"Connected vehicles: competition law issues and outlook" Conference
At a time when the automotive sector is having to rise to major challenges driven by environmental imperatives and the advent of new mobility services, connected vehicles' data use is a central part of this transformation, and the emergence of new economic opportunities. What economic and legal impact will the regulation of access to connected car data have? To debate the issue, the French Automobile Manufacturers' Committee (CCFA) will be hosting a morning conference with experts in competition economics and law, along with sector stakeholders. Sébastien Soriano will be participating in the second roundtable: "What consequences for regulation and governance by competition law?"
• Find out more
12-13 February, Lyon
Forum des interconnectés
The "Les interconnectés - Lands of innovation network" association, whose members include associations of French urban local authorities and the Assembly of French Local Authorities (AdCF), asked Arcep to speak at its next Digital affairs committee meeting, which will be taking place in Lyon as part of its annual forum. This "forum of interconnected bodies" is an annual highlight of the network's activities and provides an opportunity to take stock of the latest digital developments for local authorities. Arcep Executive Board member, François Lions, will participate.
• Find out more
24-27 February 2020, Barcelona
Mobile World Congress - MWC Barcelona 2020
The Mobile World Congress, the mobile telephone industry's international headline event, hosted by the GSM Association, will be taking place over four days in Barcelona, this year devoted to the theme of "Limitless intelligent connectivity". An Arcep delegation will be on hand to talk to industry stakeholders, and deepen its knowledge of upcoming innovations.
• Find out more
27 February 2020, Paris
2nd Digital and Territorial Cohesion symposium
"Digital Society: eradicating distrust, restoring trust". The 2nd Digital and Territorial Cohesion symposium, hosted by the Aromates agency, with the High Commission for Digital and Postal Affairs (CSNP), CIGREF and La Poste's Social Responsibility division, will be held on 27 February, chaired by Yvon Collin, Senator for the Tarn-et-Garonne, and CSNP president. Arcep Executive Board member, Serge Abiteboul, will be participating in a roundtable at 9:35 am ("Algorithms: between discrimination and fairness?"). Xavier Bertrand, President of the Hauts-de-France regional council will deliver the closing remarks.
• Find out more
5 - 6 March 2020, Belgrade
BEREC plenary meeting
The 42nd plenary meeting of the Body of European Regulators for Electronic Communications (BEREC) will be held in early March in Belgrade, Serbia, with Sébastien Soriano in attendance. Among the topics on the agenda: BEREC guidelines for defining very high capacity networks, and identifying the network termination point.
• Find out more