Now playing
IoT : Arcep launches a website available in English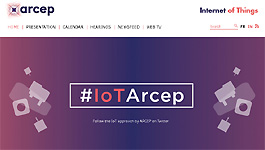 In June 2015, Arcep began in-depth work on the Internet of Things (IoT), in collaboration with France's Directorate General for Enterprise (DGE), the National Frequency Agency (ANFR), the French Data Protection Authority (CNIL), the national Network and Information Security Agency (ANSSI), France Stratégie, and the Directorate-General for Planning, Housing and Land Management (DGALN).
For Arcep, whose responsibilities include laying the foundation for future infrastructures and putting itself at the service of the digital revolution, the development of the Internet of Things is a central area of focus, given its power to be a driver of innovation, modernisation and competitiveness for the entire economy.
But the IoT also brings with it a number of challenges for digital network regulation, in terms of network capacity, interconnection, openness, architecture and quality of service. The regulator's goal is to assist all of the stakeholders to navigate this transformation as smoothly as possible - a transformation that is benefitting numerous French businesses whose vitality and inventiveness in the IoT market are being recognised the world over.

The
dedicated website
(also in English) to share Arcep's approach to this topic