Network convergence (1/5)
Joint interview with Vinton CERF, co-inventor of TCP/IP and Google's Chief Internet Evangelist, and Louis POUZIN, inventor of the datagram and of Cyclades, the first network to operate on the same principles as the Internet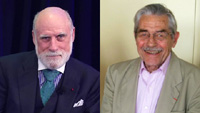 On 9 October, ARCEP will be hosting an international conference on network convergence. Electronic communications networks and services have indeed become part of a vast transformation that has unified once distinct technical systems (Wi-Fi, ADSL, FttX…) around IP architecture and data services, supplying seamless high-speed and ultra high-speed connectivity using both fixed and mobile infrastructure, while the divisions between wireline and wireless retail products are being erased to make way for the sale of triple and quadruple play bundles.
So the grand digital convergence is underway, and is transforming not only market players' business models and their positioning on the value chain, but regulation as well. How do the Internet's founding fathers feel about these changes? Two of them, Vinton Cerf and Louis Pouzin, agreed to talk to us about the network of networks, and its future.
This episode is the first of five. One episode of the series will be posted every week as part of our weekly newsletter, up until the conference on 9 October. This week's topic: The Internet: perpetual evolution machine. Next week: Net neutrality.
>
ARCEP conference programme

The interview
(
published at 5th September 2014
)